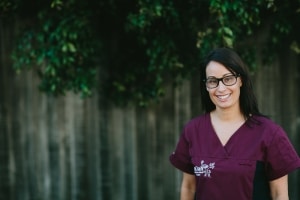 Veterinarian – BSc BVSc(hons)
Kristina graduated with Honours from the University of Melbourne in 1999.  She started her career in country Victoria treating all creatures great and small which was a wonderful way to gain broad experience as a vet.  Now settled in Melbourne and firmly entrenched in a career as a domestic animal vet, Kristina prides herself on being able to treat the full range of small animals (dogs, cats, bunnies, chickens, etc) with equal care and skill.
Working in large cities such as London and Melbourne, and completing a post-graduate course in diagnostic imaging, have allowed Kristina to develop her skills in high-standard medical management and she particularly loves caring for pets as they get older and helping them to maintain their health and quality of life.  Her other interest is in the field of dermatology – finding solutions for those tricky ear and skin problems is a genuine passion (and challenge!).
Kristina loves living in the north, some of her favourite places to relax outside of Northcote are the Fairfield Boathouse, Smith St and Brunswick St, or simply lazing about at home with her partner and super-cute cat Mika.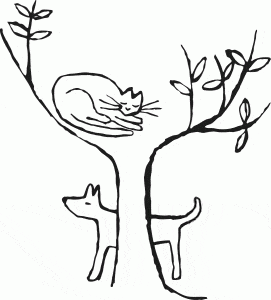 Veterinarian
Dr Emily Rushford graduated from the University of Melbourne in 1999 with a Bachelor of Veterinary Science (Honours).
Dr Emily commenced working at nOah in 2021 after spending many years at Bundoora Veterinary Clinic and the Northern Suburbs Animal Emergency Centre. She has also spent some time teaching veterinary nursing at Box Hill Tafe.
Dr Emily enjoys all aspects of general practice veterinary care, especially meeting new people and getting to know their furry friends. Emily has a special interest in:
Geriatric patients
Wound care
Pain management
Emily has always enjoyed the company of animals, and when she was younger wanted to either be a farmer, a veterinarian, or a journalist. When she was in high-school Emily decided upon veterinary science and has never looked back.
Emily lives at home with her Husband Tim, and her two children Charlie (13) and Pippa (11). The Rushford family is also home to a Rhodesian Ridgeback cross called Tikki who wishes he could be friends with the cat, a domestic shorthair cat called Jess who was rescued off the street as a kitten and whose sole purpose in life is to tease the dog. The family also have a bearded dragon called (xxx) and two goldfish called (xxx).
In her spare time Emily enjoys ocean swimming, walking, reading, and also appreciates a fine drop of wine.
Emily enjoys working at nOah primarily because of the wonderful people and pets she has the opportunity to meet, but also working with the dedicated and close-knit team of vets and nurses.