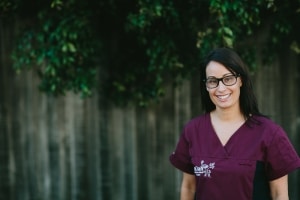 Veterinarian – BSc BVSc(hons)
Kristina graduated with Honours from the University of Melbourne in 1999.  She started her career in country Victoria treating all creatures great and small which was a wonderful way to gain broad experience as a vet.  Now settled in Melbourne and firmly entrenched in a career as a domestic animal vet, Kristina prides herself on being able to treat the full range of small animals (dogs, cats, bunnies, chickens, etc) with equal care and skill.
Working in large cities such as London and Melbourne, and completing a post-graduate course in diagnostic imaging, have allowed Kristina to develop her skills in high-standard medical management and she particularly loves caring for pets as they get older and helping them to maintain their health and quality of life.  Her other interest is in the field of dermatology – finding solutions for those tricky ear and skin problems is a genuine passion (and challenge!).
Kristina loves living in the north, some of her favourite places to relax outside of Northcote are the Fairfield Boathouse, Smith St and Brunswick St, or simply lazing about at home with her partner and super-cute cat Mika.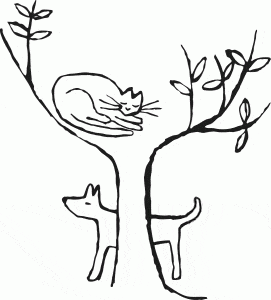 Veterinarian
Dr Tom Gregory started working at nOah as a vet in 2019. A highly qualified member of our team, Dr Tom graduated Murdoch University with a Bachelor of Veterinary Medicine and Veterinary Surgery in 2018, having previously completed a Bachelor of Marine Biology and Zoology at the University of Westering Australia in 2011 and a Bachelor of Veterinary Science at Murdoch University in 2012.
Born in Perth, WA, Dr Tom spent much of his childhood outdoors, particularly fishing and caring for animals. Coming from a family of animal lovers, Tom knew from an early age that he wanted to be a vet (with brief consideration of becoming either an actor or a rockstar!). Luckily for nOah, Tom remained steadfast in his original dream of becoming a vet.
Prior to working at nOah, Tom has had experience working and volunteering with animals across the globe. Highlights have included working in Devon (UK) in a vet practice where Tom's boss mentored him over the course of a year. Tom also spent time in Zimbabwe volunteering for Wild Horizons Wildlife Sanctuary where he played an integral role in building the region's first wildlife veterinary clinic. Tom was fortunate enough to work with various animals during this time from buffalos to cheetahs. Tom also volunteered at the RSPCA dog shelter in Perth where he wrote his honours thesis about the negative behavioural traits in shelter dogs and potential for mitigation. His thesis was well received, and his recommendations were adopted into RSPCA's renovated shelters.
Dr Tom enjoys working with both animals and people and is passionate about helping people to provide the best care for their furry friends. Dr Tom also brings a light-hearted approach to his consults and is always equipped with animal related puns and jokes (when appropriate!) In the coming years Dr Tom looks forward to continuing to gain experience in general practice and further develop his skills in complex surgical procedures.
Dr Tom lives with his fiancé Lucy, who emigrated from Canada in 2019, and their Cardigan Corgi Puppy Dolly. Dolly is very playful and affectionate and like many puppies is confused when the world doesn't revolve around her. A regular visitor at nOah, Dolly is much loved by the staff at the clinic for her excitement and genuine fondness for anyone who is willing to give her a pat.
In his spare time, Dr Tom enjoys watching and playing sport. A Freemantle AFL fan, Dr Tom was excited to move to Melbourne from Perth to enjoy more live games. He also enjoys swimming and water polo, as well as being outdoors and exploring the countryside and fishing with his fiancé Lucy. A keen musician Dr Tom played drums in bands for more than 15 years, playing in various venues from pubs to weddings.
Working at nOah, Dr Tom enjoys the comradery and community within the close knit nOah team.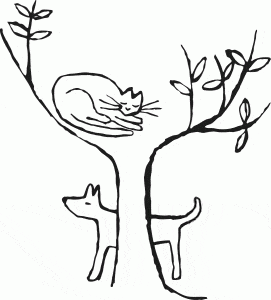 Veterinarian
Dr Emily Rushford graduated from the University of Melbourne in 1999 with a Bachelor of Veterinary Science (Honours).
Dr Emily commenced working at nOah in 2021 after spending many years at Bundoora Veterinary Clinic and the Northern Suburbs Animal Emergency Centre. She has also spent some time teaching veterinary nursing at Box Hill Tafe.
Dr Emily enjoys all aspects of general practice veterinary care, especially meeting new people and getting to know their furry friends. Emily has a special interest in:
Geriatric patients
Wound care
Pain management
Emily has always enjoyed the company of animals, and when she was younger wanted to either be a farmer, a veterinarian, or a journalist. When she was in high-school Emily decided upon veterinary science and has never looked back.
Emily lives at home with her Husband Tim, and her two children Charlie (13) and Pippa (11). The Rushford family is also home to a Rhodesian Ridgeback cross called Tikki who wishes he could be friends with the cat, a domestic shorthair cat called Jess who was rescued off the street as a kitten and whose sole purpose in life is to tease the dog. The family also have a bearded dragon called (xxx) and two goldfish called (xxx).
In her spare time Emily enjoys ocean swimming, walking, reading, and also appreciates a fine drop of wine.
Emily enjoys working at nOah primarily because of the wonderful people and pets she has the opportunity to meet, but also working with the dedicated and close-knit team of vets and nurses.