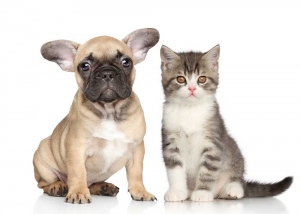 So you have made the big decision to welcome a new puppy or kitten into your family! Congratulations you have just embarked on an amazing journey full of fun and love.
There are few things cuter than a kitten chasing shadows or a puppy play bowing, they are endless fun. But once all the excitement settles it can also be a very daunting and confusing time. There is so much to consider – vaccination schedules, desexing, diet, worming, flea treatment, toilet training etc, where do you even start?!!! There is so much information out there, especially on the internet, many contradicting each other so at times it can be hard to know where you should turn.
Here at nOah we believe this time should be exciting and enjoyable! We are here every step of the way to ensure transitioning your new pet into your home, goes as smoothly as possible. One of our favourite things to do is to chat about any new addition to your family. Which is why we book extra long (30 minute) appointments with one of our highly trained vets. It's a great way to touch base about things like worming, vaccines, diet, grooming, training. We are here to help. So why not give the team at nOah a call and make a booking to come in and introduce yourself and your gorgeous new 4 legged family member. In the meantime to get you started, we have touched on all the basic information you need (the information that can sometimes be overwhelming!) below, and any other questions or concerns you may have we can help you with either on the phone, via email or during a visit to nOah.
Vaccinations
Puppy Vaccinations
Puppies require a course of vaccinations to help protect them against dangerous and sometimes life threatening diseases. This vaccination course begins between 6-8 weeks of age and continues as a course of 3 vaccines from there, each vaccine is given 4 weeks apart.
Many new puppy owners can become quite confused about what and why we vaccinate and the information out there can be very daunting, let us try and simplify it for you.
Puppies are 'temporarily' protected against many diseases by antibodies received through their mother's milk. These maternal antibodies decline in the first few months of their lives, and from here we need to boost their immunity to ensure they are protected. In the first 14 weeks of your puppy's life we will vaccinate them against the following diseases – Parvovirus, Distemper, Hepatitis and Canine Cough (kennel cough).
More often than not the main question people have regarding vaccinating their puppy is when are they fully protected and how soon you can take them out to socialise. Your puppy will be fully vaccinated a week after their final (14-16 weeks) vaccination, however we can explain just how you can introduce them to the big wide world safely at an earlier age when you visit us at nOah for your puppy check.
Kitten Vaccinations
Just like puppies, kittens require vaccinations to protect them against dangerous and sometimes even life threatening diseases. Kittens also receive some immunity through their mothers milk but as this begins to decline we need to boost their immunity by vaccinating them with a course of injections.
Kittens are vaccinated with an F3 vaccine which protects them against Feline rhinotracheitis, feline calicivirus and panleucopenia. This vaccination course begins between 6-8 weeks of age and continues as a course of 3 vaccines from there, each vaccine is given 4 weeks apart.
Here at nOah we also highly recommend that any kitten that will be allowed access to the outdoors should also be vaccinated against FIV – Feline immunodeficiency virus. This can be given at the same time as the F3 vaccination. Please chat with our friendly team if you are not familiar with the FIV vaccine and they will explain how it works and help you determine if your kitten needs this extra protection.
Worming and Flea Treatment
Puppies and kittens require worming and flea treatment from as early as 2 weeks of age. There are many many options on the market regarding preventative care, sometimes it can be a little overwhelming. Do you use a spot on or a tablet? Is a combination product best for you? Why isn't there a combination product to cover everything? Are you using the right one for the weight? Are all products equally effective?
We can help you work out what best suits you and your new pet, simply and easily, even down to ensuring you receive a friendly reminder when you next have to treat your little pet. And if you prefer to do your purchasing online, then we can even give you a discount voucher for an online pet store.
Desexing
There are many, many different opinions out there regarding when it is best to spey and castrate. So much so it can be very confusing, some suggestions are simply old wives tales! We believe here at nOah that if you are not planning to breed from your dog or cat then it's in their best interest, both mentally and physically, to be desexed around the age of 5-6 months. Each case can be slightly different and we are happy to work around whatever sits most comfortably with you and works best for your pet.
Desexing is a day procedure performed at nOah, your little one will be admitted during a consultation in the morning and discharged later in the afternoon or early evening. Whilst staying at nOah they will receive a high standard of care including IV fluids, the latest in pain management, their very own dedicated dog and cat wards and a nurse of their own.
We understand for new pet owners this can be a daunting experience, the team at nOah are here to help you and answer any questions you may have, we can even take you for a guided tour of the hospital to show exactly where your little one will stay and what they will experience.
Microchipping
The only permanent method of identifying your puppy or kitten is with a microchip, this is small device about the size of a grain of rice that's implanted in the loose skin at the back of their neck. This microchip has a number allocated to it, which is then registered with a National Database. In the event that your little one was to go missing it could be scanned at a vet clinic, pound or rescue group and returned to you. Microchip's are most commonly implanted at the time of desexing, however they can easily be implanted at any age during a consultation.
Grooming
Each and every breed has a different requirement for grooming from Golden Retrievers to Persians, from Fox Terriers to your gorgeous scruffy cross breeds and all in between.
What's most important with your puppy and kitten when it comes to grooming is to start early! Getting them used to the concept of grooming is more important in the early days then the actual grooming itself, its important they get used to the feel of the brush all over their body. The best way to do this is to start with a soft brush or a Zoom groom, something that is not harsh or will scratch their skin, and make it and enjoyable experience. Also rewarding them with treats and cuddles. We even have a Zoom Groom you can try out during your free consultation.
Short coated breeds like Fox terriers, Labradors , Domestic short hair cats etc need very little grooming over their lifetime, often a soft brush or a zoom groom a few times a week is all they need, however their much hairy friends like Maltese Terrier, Poodles, Golden Retrievers etc will need much more extensive grooming over their lifetime, they require daily brushing, slicker brushes (a brush with longer wire combs) are excellent at keeping those knots at bay.
For these little puppies it's an excellent idea to have them booked in for a puppy spa (see dog grooming) with our very gentle and calm groomer Gaye, this is the time they will get used to the noise and feel of the clippers and the hydrobath. Time is taken to ensure they are not scared and overwhelmed, they are not rushed nor intimidated, rather given the time to get used the sounds and feel of the grooming room. Most often they only receive a trim around their eyes, belly and bottom and a soothing hydrobath until they require a full groom in the later months.
It's best to keep the washing of your puppy to a maximum of once a week otherwise we risk drying their skin and coat. One of the most important things to remember is to purchase a good quality shampoo and conditioner that is pH balanced for animal's skin, an oatmeal base shampoo is an excellent gentle option. We have a range of lovely shampoos and conditioners at nOah, one of our friendly team members can help talk you through the best option for your pet.
What Really is Best to Feed your Puppy or Kitten?
We bet you have been bombarded with different advice from all different angles. It is hard to know which way to go when deciding the best diet for your puppy or kitten. In this day and age there are literally hundreds of options, raw, organic, grain-free, home cooked, processed and everything in between. Our main priority is ensuring that your pet has the best start to life possible, which can only begin with a balanced diet. Whether you choose to feed a premium diet, such as Hills Science Diet or Natural Balance, or a raw option, or a combination of both, the main aim is to ensure your puppy or kitten receives the necessary vitamins and nutrients a growing body needs. Small to medium breeds require puppy and kitten food up until approximately 12 months old. Large and giant breeds require the extra nutrients until 18 months. From these ages they can be weaned onto a balanced adult diet.
There is a lot of debate as to how many meals a day a puppy should receive, this is largely dependent on the breed of the dog and it's something best discussed with one of our vets or nurses. However, most puppies require 3 meals a day until around about 4-5 months old and then from there they can be weaned down to 2 meals per day. Please call to discuss a feeding plan that will work well with your new pet, to ensure they have a full tummy and all the nutrients and goodness they require.
Puppy Training
Held here at nOah, puppy school is not only fun and exciting for both puppies and their owners but it is also a crucial time in a puppy's development. We have an excellent, calm and controlled puppy school, designed to bring out the best in all the puppies who attend. We also go through general obedience and trouble shooting… please see our puppy school section for more information and how to enrol. It's so much fun! You don't want to miss out!