Book Your Puppy or Kitten's Health Check Today
Our experienced vets will perform a full health check and ensure you understand how to care for and protect your pet.
So you have made the big decision to welcome a new puppy or kitten into your family! Congratulations you have just embarked on an amazing journey full of fun and love.
There are few things cuter than a kitten chasing shadows or a puppy play bowing, they are endless fun. But once all the excitement settles it can also be a very daunting and confusing time. There is so much to consider – vaccination schedules, desexing, diet, worming, flea treatment, toilet training etc, where do you even start?!!! There is so much information out there, especially on the internet, many contradicting each other so at times it can be hard to know where you should turn.
Here at nOah we believe this time should be exciting and enjoyable! We are here every step of the way to ensure transitioning your new pet into your home, goes as smoothly as possible. One of our favourite things to do is to chat about any new addition to your family. Which is why we book extra long (30 minute) appointments with one of our highly trained vets. It's a great way to touch base about things like worming, vaccines, diet, grooming, training. We are here to help. So why not give the team at nOah a call and make a booking to come in and introduce yourself and your gorgeous new 4 legged family member. In the meantime to get you started, we have touched on all the basic information you need (the information that can sometimes be overwhelming!) below, and any other questions or concerns you may have we can help you with either on the phone, via email or during a visit to nOah.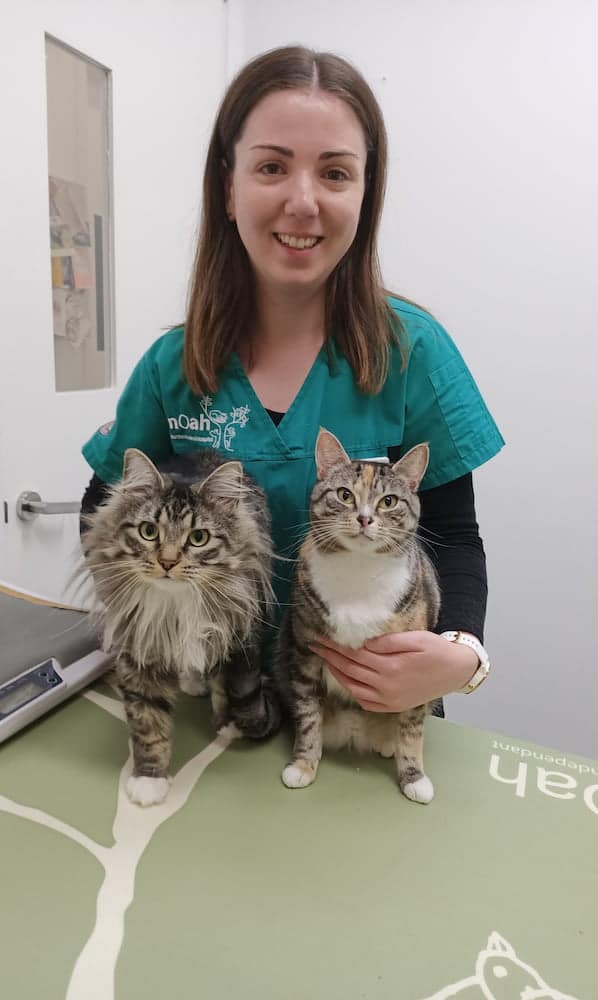 Exercise
Worming and Flea Treatment
Desexing
Microchipping
Grooming
Feeding
Exercise
Vaccinations
Puppy Vaccinations
Puppies require a course of vaccinations to help protect them against dangerous and sometimes life threatening diseases. This vaccination course begins between 6-8 weeks of age and continues as a course of 3 vaccines from there, each vaccine is given 4 weeks apart.
Many new puppy owners can become quite confused about what and why we vaccinate and the information out there can be very daunting, let us try and simplify it for you.
Puppies are 'temporarily' protected against many diseases by antibodies received through their mother's milk. These maternal antibodies decline in the first few months of their lives, and from here we need to boost their immunity to ensure they are protected. In the first 14 weeks of your puppy's life we will vaccinate them against the following diseases – Parvovirus, Distemper, Hepatitis and Canine Cough (kennel cough).
More often than not the main question people have regarding vaccinating their puppy is when are they fully protected and how soon you can take them out to socialise. Your puppy will be fully vaccinated a week after their final (14-16 weeks) vaccination, however we can explain just how you can introduce them to the big wide world safely at an earlier age when you visit us at nOah for your puppy check.
Kitten Vaccinations
Just like puppies, kittens require vaccinations to protect them against dangerous and sometimes even life threatening diseases. Kittens also receive some immunity through their mothers milk but as this begins to decline we need to boost their immunity by vaccinating them with a course of injections.
Kittens are vaccinated with an F3 vaccine which protects them against Feline rhinotracheitis, feline calicivirus and panleucopenia. This vaccination course begins between 6-8 weeks of age and continues as a course of 3 vaccines from there, each vaccine is given 4 weeks apart.
Here at nOah we also highly recommend that any kitten that will be allowed access to the outdoors should also be vaccinated against FIV – Feline immunodeficiency virus. This can be given at the same time as the F3 vaccination. Please chat with our friendly team if you are not familiar with the FIV vaccine and they will explain how it works and help you determine if your kitten needs this extra protection.
Worming and Flea Treatment
Desexing
Microchipping
Grooming
Feeding