The Cat Clinic in Melbourne
Our brand new, purpose built vet clinic in Melbourne has been designed with cats in mind. Considerable thought was put toward creating a cat-friendly clinic in Melbourne with facilities to reduce stresses encountered at the vet. As a result, we are proud to say we have incorporated a cat waiting area, cat consultation room and cat-only hospital ward.
Our knowledgeable staff also happen to be cat owners themselves and they understand that cats need to be cared for in a calm and relaxed manner. This genuine understanding translates to better overall care for your cat when in hospital, and extends to support and advice about the challenges you face when back home introducing prescription diets or medications. Even just getting your cat to the vet in the first place can be hard! We are always happy to help with any of these challenges/things/problems you face/have.
So when considering a new vet for your much loved kitty ask the question…
Does your Vet have 'Cattitude'?
Here is a list of design features that make us such a cat friendly vet clinic in Melbourne: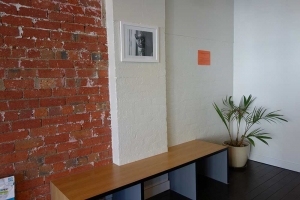 Cats are seated well away from the dog waiting area so that your cat can wait in a calm and non-threatening environment. There is specialised seating to place your cat carrier underneath to avoid any direct visual contact with other cats which can also be stressful.
This is positioned directly off the cat waiting area so that your cat need not pass through any 'enemy territory' when entering the consultation room. This safe environment allows cats to be examined calmly and effectively.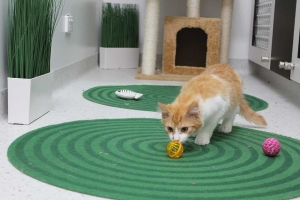 There is access to reception without having to leave the cat area, and a customised nook to place the cat carrier so that your cat is still shielded from other animals.
Dedicated Cat-only Hospital Ward
The difference this makes to reduce stress and improve comfort for sick, hospitalised cats is enormous. Our white fibreglass cages are warmer, quieter and more comfortable than stainless steel, and are designed so that patients do not have direct visual contact with each other. The ward is calm and quiet, being situated far from noises such as barking dogs and washing machines.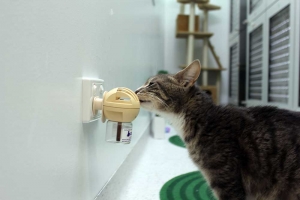 Feliway diffusers are used throughout our cat facilities to help create a sense of calm, familiarity and security. This pheromone therapy is proven to help prevent or reduce stress in unfamiliar environments.
We hope that you will be impressed by our knowledge and understanding of cats special needs. Visit our cat clinic in Northcote, Melbourne that is exclusively designed for cats.