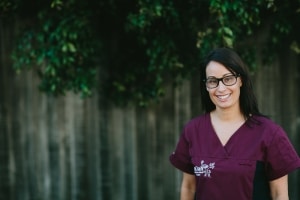 BSc BVSc(hons)
Kristina graduated with Honours from the University of Melbourne in 1999.  She started her career in country Victoria treating all creatures great and small which was a wonderful way to gain broad experience as a vet.  Now settled in Melbourne and firmly entrenched in a career as a domestic animal vet, Kristina prides herself on being able to treat the full range of small animals (dogs, cats, bunnies, chickens, etc) with equal care and skill.
Working in large cities such as London and Melbourne, and completing a post-graduate course in diagnostic imaging, have allowed Kristina to develop her skills in high-standard medical management and she particularly loves caring for pets as they get older and helping them to maintain their health and quality of life.  Her other interest is in the field of dermatology – finding solutions for those tricky ear and skin problems is a genuine passion (and challenge!).
Kristina loves living in the north, some of her favourite places to relax outside of Northcote are the Fairfield Boathouse, Smith St and Brunswick St, or simply lazing about at home with her partner and super-cute cat Mika.