For other places to adopt kittens and cats please visit: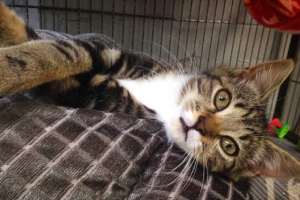 Here at nOah, we feel incredibly lucky with our fantastic clients and beautiful patients. We honestly believe we have the best owners who take the time and effort to care for their furry family members.
Whilst all our patients have warm beds, full tummies and endless love showered on them, we are acutely aware that not all animals are quite so lucky. Not only do the staff at nOah love our industry, we all genuinely love animals too and want to be able to help those four legged community members who are not as fortunate as our patients.
The biggest issue with stray animals, particularly cats, is the ongoing cycle of undesexed animals and their offspring being born. There are always kittens and cats living on the streets and as a result we have a revolving door of babies (and sometimes older cats) up for adoption and needing your help. They come from all walks of life such as being dumped, born on the streets, and at times surrendered.
nOah tries as best we can to find homes for the homeless kittens who cross our path. All our foster cats are desexed, vaccinated, microchipped etc, but most of all they are loved until their very own life long family comes along.
Our foster kids don't have a time frame, they stay here safe and sound until we can be assured they have found the perfect home. They are often taken to our homes at night which helps ease the transition from being a stray to living in the safety of our clinic, to then being a well-adjusted and socialised pet ready to live in a regular home setting.
Each of these beautiful babies you see have now found their own home, full of love and security.
If you would like to discuss the possibly to adopt a cat, or perhaps even becoming a foster parent, please give one of our friendly Melbourne team member's at nOah a call.