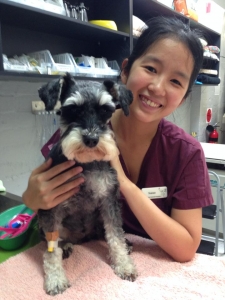 Veterinary Nurse VN
Vivian started her foray into the veterinary industry in 2007, in the tropical country of Malaysia. During her 6 years there, she gained a thorough grounding in all forms of preventative healthcare, as infectious diseases, fleas, ticks and other parasites are rife due to the warm climate and booming stray population. As such she is always happy to have a chat about flea and worming treatments, heart worm injections and desexing.
In 2012, Vivian made the move to Melbourne to pursue a graduate diploma in Creative Writing at the University of Melbourne, and at the same time enabling her to reunite with her long term partner. After a year of writing substandard poetry and screenplays, she realised the error of her ways and returned to the industry, finding her place in the close-knit team at nOah.
Back in the environment she is most familiar with, Vivian loves coming to work every day to meet and provide the best care for her patients, clients, and colleagues. She will be commencing her Certificate IV in Veterinary Nursing this year.
When she is not at work, Vivian spends almost all of her time with her partner, who happens to be a veterinarian. Thus it is a bit difficult to leave work behind sometimes, but they manage it by doing a lot of cooking, eating, and fostering the occasional kitten in their tiny apartment.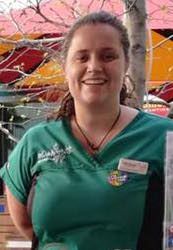 Veterinary Nurse VN
Nikki is currently undertaking her Certificate IV of Veterinary Nursing and has pr
eviously completed a Bachelor of Biological Sciences. Nikki started her animal care career working for RSPCAria in Epping before moving to Northcote Animal Hospital in early 2016. She is passionate about holistic pet care and animal behaviour and she currently runs our Puppy Pre School program.  When she is not working, Nikki runs a pet sitting business and enjoys spending time with her family, friends and all her animals down at her parents property near Phillip Island. Nikki is an avid traveler and enjoys venturing to third world countries and supporting local conservation efforts.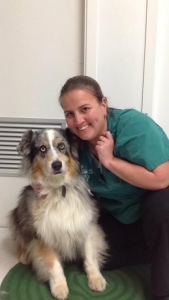 Veterinary Nurse VN
Bec comes to us with 17 years of veterinary nursing experience. She started her career working in a large and small animal practice in Melbourne's North, where she gained alot of knowledge. After 2 years she moved to a corporate clinic and was able to complete her veterinary nursing qualification and become a practice manager.  After 15 years at this clinic, and with lots experience and knowledge, Bec came to nOah in March 2017.
When not at work Bec loves spending time with her two sons, playing tennis and having a few drinks with friends. Bec also lives with her two dogs, Ice the Australian Shepherd (clinic receptionist) and Jai the Terrier-cross, as well as her four rescue cats, Alexander, Dash, Oliver and Charlee.
Ice:
Ice is a 10yo Australian Shepherd who was adopted through Pet Rescue.  He brings to nOah a great variety of talents such as a clinic receptionist, child minder, consoler and an overall friend to all.  He loves treats and playing with his toy sausages on a rope (his favourite toy).  He loves pats and is easily won over with a belly rub or a treat. He isn't very good at typing, but loves to  greet and meet knew people and 4 legged friends.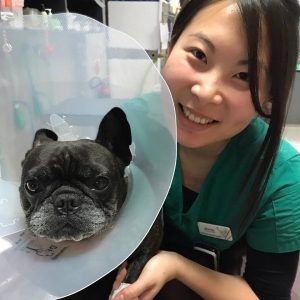 Veterinary Nurse VN
Originally from the west side of Australia, Alina began her vet
nursing journey in 2013 and never looked back. She graduated with a business degree from the University of Western Australia but
decided animals were really her ultimate passion and drive in life. She enjoys their company immensely and loves seeing the joy they bring to their human companions; so it's just as important to her that they are fit and healthy, then life can be lived to the full by all!
Currently she has two furbabies – Isis the Sphynx Queen, and Steven the Suckler (Devon Rex), who were both adopted from her previous work. They have an Instagram account so check it out if angry-faced cats tickle your fancy (they're actually smoochy as anything but…their face says otherwise).
In her spare time Alina likes to play board games and video games with her partner and their friends, hiking, and exploring the outskirts of Melbourne, or sleeping.