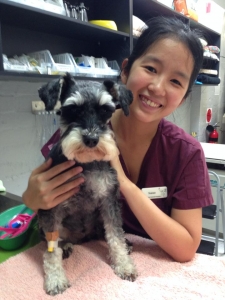 Veterinary Nurse VN
Vivian started her foray into the veterinary industry in 2007, in the tropical country of Malaysia. During her 6 years there, she gained a thorough grounding in all forms of preventative healthcare, as infectious diseases, fleas, ticks and other parasites are rife due to the warm climate and booming stray population. As such she is always happy to have a chat about flea and worming treatments, heart worm injections and desexing.
In 2012, Vivian made the move to Melbourne to pursue a graduate diploma in Creative Writing at the University of Melbourne, and at the same time enabling her to reunite with her long term partner. After a year of writing substandard poetry and screenplays, she realised the error of her ways and returned to the industry, finding her place in the close-knit team at nOah.
Back in the environment she is most familiar with, Vivian loves coming to work every day to meet and provide the best care for her patients, clients, and colleagues. She will be commencing her Certificate IV in Veterinary Nursing this year.
When she is not at work, Vivian spends almost all of her time with her partner, who happens to be a veterinarian. Thus it is a bit difficult to leave work behind sometimes, but they manage it by doing a lot of cooking, eating, and fostering the occasional kitten in their tiny apartment.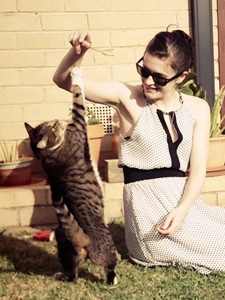 Head Veterinary Nurse VN
Maria is originally from Ireland and came to Australia in 2006 for a holiday. After a year of back packing and fruit picking she loved it so much she decided to stay and has lived here ever since. Maria began her career with animals straight out of high school when she worked in a dog shelter in Dublin and has never looked back. Once settling in Melbourne she studied her Cert IV in Vet Nursing and has worked in both general practice and emergency clinics. Maria has a special interest in our feline friends and is currently studying a diploma in feline nursing.
When she isn't working Maria loves to travel or just enjoy Melbourne's great live music and food!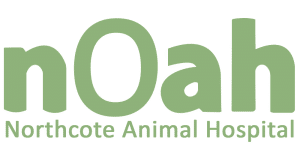 Veterinary Nurse VN
Bree began her career with animals in 2008 working as an animal attendant at a country-based boarding kennel and cattery. Her passion for working amongst animals blossomed
from there and the decision to move into the caring world of Vet nursing came about in 2010.
Bree began nursing at nOah in October 2014. Since joining us her interest in animal
behaviour quickly increased and she found great enjoyment in taking on the role of teaching nOah's Puppy School classes. Outside of nursing Bree leads an active lifestyle enjoying her weekly games of netball, snow skiing and boarding in the cooler months and taking her dogs Kelly the kelpie and Charlie the Spoodle for regular outings seeking new walking trails, fun-filled dog parks and beaches.
A long standing interest of Bree's is pet grooming which she finds greatly therapeutic on her days off. She is known to her family as a foster failure as over the past 5 years she has been more than happy to take in abandoned kitties in need of care but has never been able to rehome them anywhere other than with her and her family. Moscato, Mini, Destiny, Babou & Goku are 5 very happy, playful and very much loved members of Bree's family. Along with her Turtle Franklin.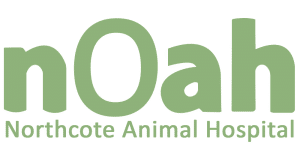 Veterinary Nurse VN
Jo began her veterinary nursing career in Melbourne in 2012 in a busy sole vet clinic. Since then has worked in clinics around Australia and joined the team here at nOah early in 2015.
Jo particularly enjoys surgical nursing, meeting our clients and their furry friends at reception, and helping clients with any questions they may have about preventative health, pet nutrition and pet dental care.
Jo and her partner Dan run a Veterinary Nurse Training course which teaches entry level nurses the fundamental skills and knowledge. Jo and Dan are passionate about helping nurses develop good skills and habits and providing the best care to their patients.